Our physical therapy program is a true sports medicine practice.
It takes place in a gym, amongst athletes, and involves extensive movement and field work.
We work closely with our patients to help them understand what caused an injury and how to prevent reoccurrence in the future.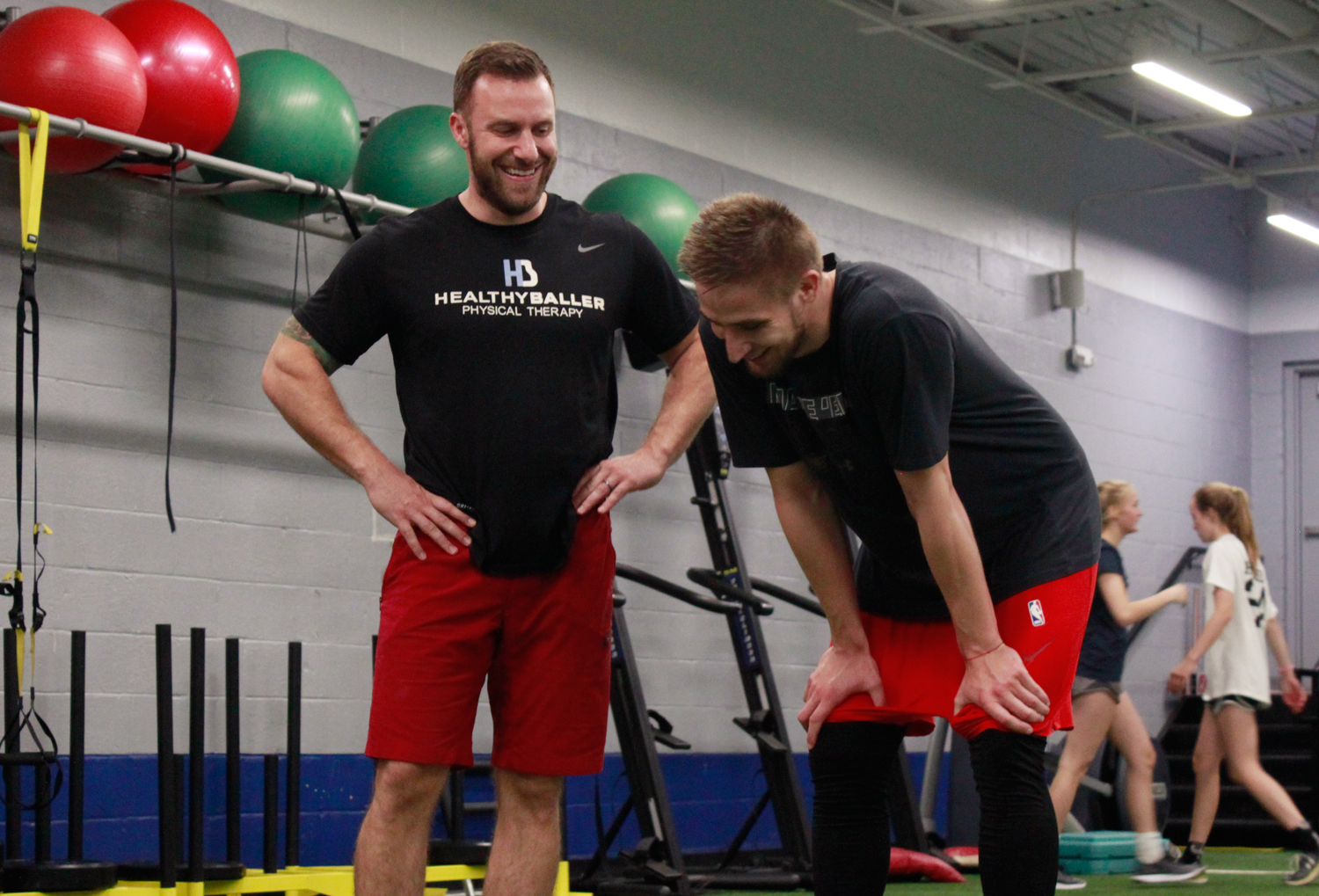 Physical Therapy Services Offered
Trigger point dry-needling
Blow flow restriction rehabilitation
Muscle force evaluation testing with a handheld dynamometer
Muscle temperature evaluation
Instrument assisted soft tissue mobilization
Postural Restoration centered treatment
Comprehensive biomechanics evaluation
Movement screening
Post surgical rehabilitation
Return to sport rehabilitation
Injury prevention screening and training
Work with the best physical therapists in the country!
We develop individualized treatment plans and empower our patients by giving them the necessary tools to get back in the game.
dr. teddy willsey, pt, dpt, cscs
director of healthy baller sports medicine
As both a Physical Therapist and a strength and conditioning coach, Teddy works with patients from individual rehab and conditioning to team training. Teddy emphasizes injury prevention and long term planning as a means to staying healthy. To say he leads an active lifestyle would be an understatement, as he is a competitive power lifter.
Wesley works with athletes of all ages and his treatment philosophy centers around movement, strengthening and patient education. Having personally suffered 2 ACL tears from playing basketball, Wesley's treatments prioritize regaining full mobility, strength and confidence to reduce the likelihood of suffering another injury.
Strength and conditioning, sport coaches and sports medicine
ALL UNDER ONE ROOF
This collaborative approach to physical therapy is extremely unique. We follow a patient centered care model: this involves in-house communication as well as outside coordination with physicians, school athletic trainers, sport coaches, and parents. We feel this gives our athletes the best opportunity to return to their sports in a safe and timely manner.
We take pride in preparing our athletes during the critical last few months before return to competition after major surgery. Most typical rehab programs fall short here, as they are not equipped to challenge high level athletes and determine their readiness.
Get in touch with Teddy and Wesley!
First time user? Fill out our waiver first.
STRIVE FOR PROGRESS, NOT PERFECTION